WELCOME!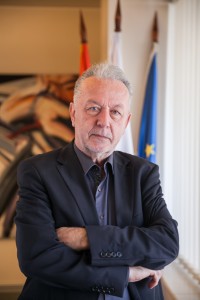 Dear future students,
Respectable young colleagues,
Welcome to Faculty of Culture and Media, one of the youngest establishments within distinguished academic system John Naisbitt University! By choosing our faculty you have already done very much for yourselves, your family and your future career, but also for the Serbian culture and journalism as a whole.
Congratulations on your good choice!
Having you, John Naisbitt University is not only more beautiful, but different and smarter as well. Thank you for your trust in John Naisbitt University as a safe and inspiring place for your plans, desires and your dreams in the next four years. We are aware of the responsibility taken over your growing experience, in guiding and articulating your development.
I reckon that you seek optimism, artistic message and useful people's experience. I am convinced that our mutual perspective of future and sensibility introduced by your young generation can raise us above the moments leading equally downwards and upwards. You shall be a part of one agitated beehive where the ideas are shared, improved and affirmed concerning journalism that surpasses contemporary one and culture that would act as a pillar, mainstay of endeavors towards better and finer life. The crisis spoken of and written about far and wide can be overcome only by culture, imagination and creation. That is our inner capital that we wish to make visible to others, to everyone. Relying on high achievements in Serbian culture and rich heritage of Serbian journalism, our curriculum is supposed to make managers and journalists of new mettle who shall enlarge cultural and democratic society potentials and be capable of revealing with criticism various modes of spiritual alienation and drifts of primitivism and kitsch that unfortunately are not scarce in nowadays circumstances.
Our program is conceptually unique in this part of Europe. It offers modern, apposite to global environment, forms of exploring spiritual heritage, social reality figures and characteristic modes of cultural civilization and media requirements. Carried out by means of multidisciplinary approach and interactive combination of theory and practice, along with help provided by teachers showing fine concurrence of youth and experience, that program guarantees that students graduated from the Faculty of Culture and Media shall become prestigious analysts and explorers of values, social trends, unknown phenomena and spirit of time entirety.
There are many jobs in our society waiting for the young, ambitious and curious. One day when you become respectable and successful hard-working enthusiasts for culture, managers and journalists, reliable interpreters and creators of public opinion – we, as your teacher, shall be sufficiently satisfied if  some of you mention: "We come from John Naisbitt University, now that was a good school!"
Welcome and make yourselves at home with us here.
Dean of Faculty of Culture and Media
Prof. PhD Milivoje Pavlović
"In the computer era, strategic values will be:
CREATIVITY, KNOWLEDGE AND INFORMATION."